Liver Disease
Liver disease is a relatively common problem in dogs with the occasional case reported in cats. Nutritional support is crucial for dogs suffering from liver diseases. Royal Canin Hepatic is a highly palatable, complete solution for the dietary support of liver function in dogs suffering from chronic liver disease and insufficiency.
Royal Canin Hepatic has been formulated for adult dogs suffering from liver disease to:

Provide energy and nutrients to support the pet and its liver function.
Provide the nutrients needed for the repair of liver cells.
Reduce the toxins produced by metabolism of proteins.
Limit the absorption of toxins from the large intestine.

The Liver is an essential organ in the body and has many functions, some of these include:
Nutrient digestion and metabolism of:

Proteins

Fats

Carbohydrates

Certain vitamins and minerals.


Neutralizing and excreting toxins.

The blood and clotting system.

Hormone balance.
In order to maintain these vital functions while a dog is suffering from liver disease, Royal Canin Hepatic has:
A high energy density.

A moderately restricted level of high quality protein.

A moderately restricted fat content.

Highly digestible complex carbohydrates.

Increased levels of soluble and insoluble dietary fiber.

Increased zinc content.

Restricted copper content.

Moderately restricted sodium content.

Enhanced levels of B-complex vitamins.

A specific, patented antioxidant complex.
Royal Canin Hepatic includes special ingredients to meet the specific needs of your pet:
Low Copper. Accumulation of copper in liver cells leads to liver damage. Hepatic diet contains a low level of copper, limiting copper intake.

Antioxidant Complex. The synergistic antioxidant complex (vitamin E, vitamin C, taurine, lutein) neutralizes free radicals and helps support the health of liver cells.

Electrolyte Balance. A limited sodium intake helps to decrease hypertension (high blood pressure) in the liver and so limits the risk of ascites (fluid accumulation in the abdominal cavity).

High Energy. Energy is provided by fat. This enables dietary proteins to be used for regeneration of liver cells and reduces the workload on the liver needed to purify products of protein metabolism.
Dogs suffering from liver diseases can be kept on Royal Canin Hepatic for the duration of their lives. For more information on Royal Canin's Veterinary Diets, visit www.royalcanin.co.za.
Article written by: Michelle Christie (Royal Canin)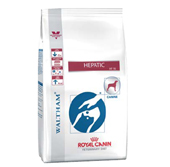 !! AVAILABLE ONLY FROM VETERINARIANS !!